Things are getting a little out of hand.
The original plan was just to get a few plants to gussy up the balcony so it'd more pleasant when we're sitting out there or I'm writing or grilling or whatever. And I wanted most of the plants to be edible, because if I'm going to spend time and money on something, I think I should get to eat it. The dog is on notice. I didn't want to get too ambitious, because it's only a 12×6 second-floor balcony with no planting beds and intermittent sunshine.
Here's what I considered a reasonable little balcony garden. A pepper plant, some spinach, some beets, a couple of ferns … Completely reasonable.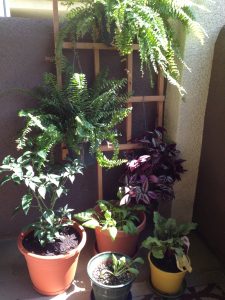 Several weeks later, I'm crowding myself out with all kinds of green stuff.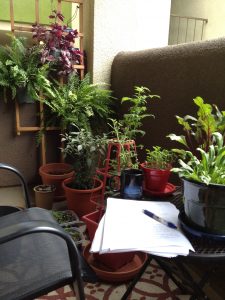 The air conditioner is now a support system for herbs.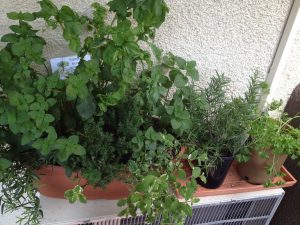 I've got things hanging somewhat precariously. Like this basket of what I hope will become strawberries.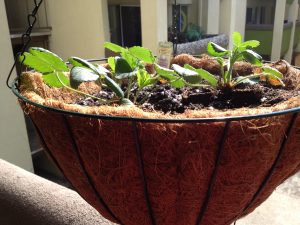 And even flowers, for crying out loud. (The Superbena Lilac Blues are doing nicely, but the Red Aztecs are total B.S.)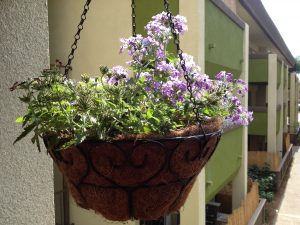 I've got stuff growing in a sack. I didn't even know that was a thing.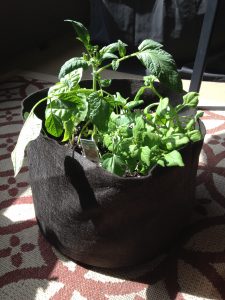 And in tupperware.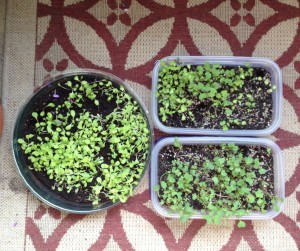 I have done battle with monsters.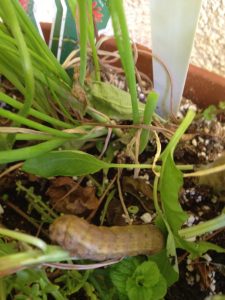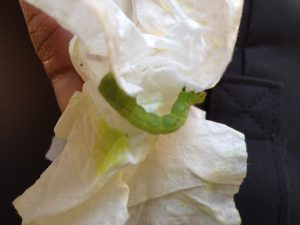 And I am making way too many trips to the nursery, spending too much money, and getting away from my initial plan for the balcony, which was to make it a pleasant, uncluttered space. So I need to start thinking about window boxes, about going vertical, and I really need to stop going to the nursery.
But I do like growing food.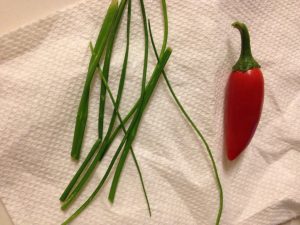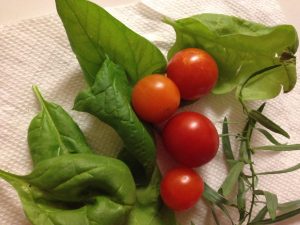 And I like being surrounded by something other than stucco and concrete. It's fun to have a new enthusiasm, and there's nothing quite like sticking one's hands into a bag of dark, moist, dirt. We'll see how this all goes. The important thing is I still have room for this: