No, I'm serious, I'm going to try to blog more. I can't afford to get caught tagging freeway overpasses again, and motorists seem to have little interest in reading what I had for breakfast in the medium of dripping spray paint on concrete.
This has been the summer of gardening. It's my first time gardening, and the fact that I have any living plants at all is something of a surprise to me. That said, I've lost the carrots, the radishes, the heirlooms, and the basil, and the strawberries. Still living are the cherry tomatoes, the serano peppers, and the salads. A few other plants are alive but have not yet produced anything I can eat. Part of the challenge is overcoming my own inexperience and incompetence. Also, it's been uncharacteristically nasty hot for San Diego. Also, caterpillars. Also, this pest: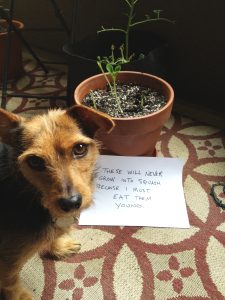 In writerly news, I turned in the final draft of Osteomancer book 1. There's no official release date, but indications indicate that it 'll be out in late summer/early fall 2013. Right now I'm working hard on book 2.
And I have an upcoming appearance. It's the Orange County Children's Book Festival on September 30. I'll be on the Teen Stage at 10:30 am. Instead of doing a commercial for my books, I think I might read from something in-progress and try to engage the audience in chitter-chatter. Maybe I'll give something away. I still have a couple of The Boy at the End of the World arcs. After I'm done with the blither-blather, I'll be signing at the Mysterious Galaxy booth. You should come. Wherever you are.
Oh, breakfast. Shredded wheat with bananas, strawberries, and blueberries. All the berries were bought at the store because of caterpillars and dog and stuff.