California Bones – Cover and Copy and Quotes and Things
by
Oh, hey, now, California Bones, the first in my urban fantasy trilogy slated for a June 10, 2014 release, is listed in my publisher's catalog, which means now I can slather things like the cover and the flap copy and quotes from fabulous authors all over the social media. I will start here!
First, a link to the relevant catalog page!
Next, the publisher's summary/description:
A novel of magic, a heist, and the unexpected things that change your life.

When Daniel Blackland was six, he ingested his first bone fragment, a bit of kraken spine plucked out of the sand during a visit with his demanding, brilliant, and powerful magician father, Sebastian. Then, when Daniel was twelve, he watched Sebastian die at the hands of the Hierarch of Southern California, devoured for the heightened magic layered deep within his bones.
Now thirty, Daniel is a petty thief with a forged identity. Hiding amid the crowds in Los Angeles—the capital of the Kingdom of Southern California—he is trying to go straight. But his crime-boss uncle has a heist for Daniel to undertake: break into the the Hierarch's storehouse of magical artifacts and retrieve Sebastian's sword, an object of untold power.

Daniel assembles a trustworthy team of his closest friends from the criminal world. Moth, who can take a bullet and heal in mere minutes. Jo Morales, illusionist. The multitalented Cassandra, Daniel's ex. And, new to them all, the enigmatic, knowledgeable Emma, with her British accent and her own grudge against the powers-that-be. The stakes are high, and the stage is set for a showdown that might just break the magic that protects a long-corrupt regime.

Extravagant, inventive, and shot through with moments of intensity as bright as the California sun, Daniel's story is an epic adventure set in a city of canals and secrets and casual brutality—different from the world we know, and yet also familiar and true.
I think they make my book sound even more better than it actually is, only I'd never say that in public!
And now, some of the nice things other authors have said about California Bones:
"I both love and am terrified by Greg Van Eekhout's vision of Los Angeles. I already want to go back." —John Scalzi
"Great story, great characters, and a truly cool/creepy alternate Los Angeles built on magic, blood, and bone. This took me to places I didn't expect. I like books that do that, and you will too."
—Steven Brust, New York Times bestselling author of the Dragaera series
And, the one featured on the cover, by the amazing Steven Gould:
"L.A. noir as dark as La Brea tar meets magic drawn from ancient bones."
—Steven Gould, author of Jumper
I saw another quote that's not in the catalog, but if I can reveal it, I will, because it's an awfully nice quote by one of my literary heroes.
And, finally, take a look at my cover (and as soon as I learn the name of the obviously very talented artist, I will add it here).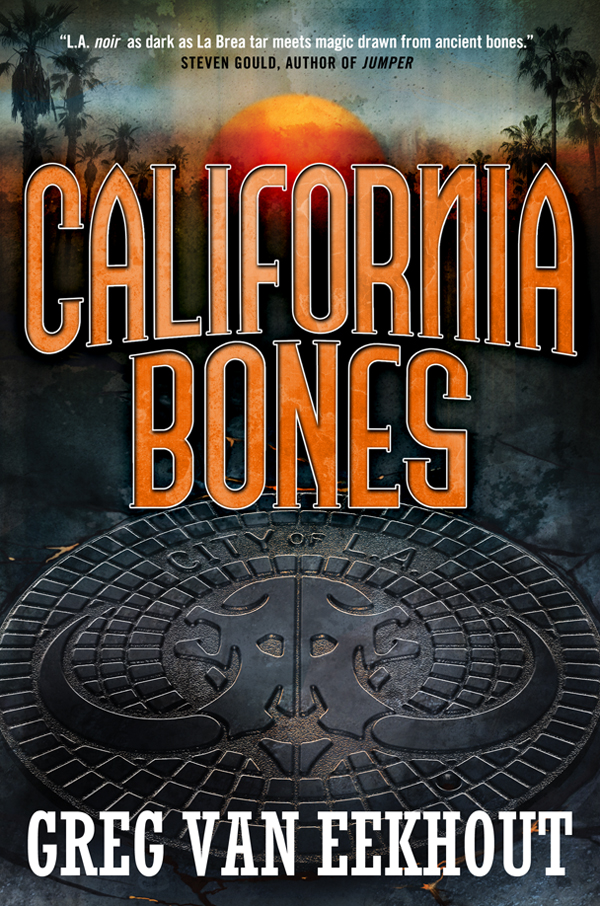 I am excite!!!