Pacific Fire – Cover Reveal
by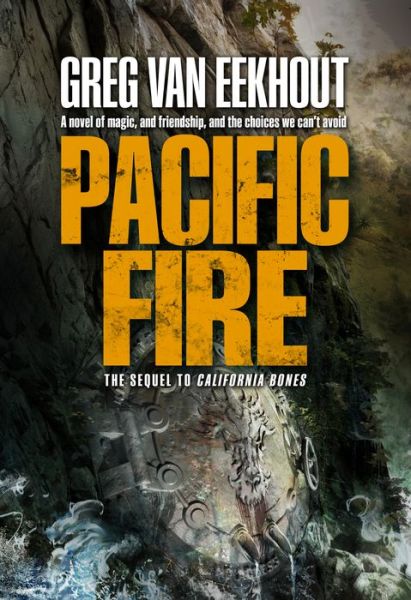 Here's the cover Pacific Fire, the second book in the California Bones trilogy, due out January 27, 2015. Isn't it swell? The art is by Cliff Nielsen, also responsible for the cover of California Bones and, incidentally, Norse Code. And here's the cover copy penned by my publisher, Tor Books:
I'm Sam. I'm just this guy. 

Okay, yeah, I'm a golem created from the substance of his own magic by the late Hierarch of Southern California. With a lot of work, I might be able to wield magic myself. I kind of doubt it, though. Not like Daniel Blackland can. 

Daniel's the reason the Hierarch's gone and I'm still alive. He's also the reason I've lived my entire life on the run. Ten years of never, ever going back to Los Angeles. Daniel's determined to protect me. To teach me. 

But it gets old. I've got nobody but Daniel. I'll never do anything normal. Like attend school. Or date a girl.

Now it's worse. Because things are happening back in LA. Very bad people are building a Pacific firedrake, a kind of ultimate weapon of mass magical destruction.  Daniel seemed to think only he could stop them. Now Daniel's been hurt. I managed to get us to the place run by the Emmas. (Many of them. All named Emma. It's a long story.) They seem to be healing him, but he isn't going anyplace soon.

Do I even have a reason for existing, if it isn't to prevent this firedrake from happening? I'm good at escaping from things. Now I've escaped from Daniel and the Emmas, and I'm on my way to LA. 

This may be the worst idea I ever had.