Far As You Can Publish
by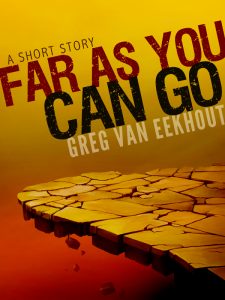 So I'm dipping my toes into the pond of self-publishing, or independent publishing, or indie writering, or whatever we're calling it these days. (I call it consignment selling primarily through the systems and controls of the giant, powerful corporation, Amazon.) And I'm doing it with a short story, "Far As You Can Go," which previously appeared in my chapbook from my friends at Tropism Press, in Gardner Dozois' Year's Best Science Fiction (24th Annual Collection), in podcast form at Podcastle, and on various illegal download sites.
Here's why I'm doing it: Because self-publishing is not going away, and I imagine at some point in the future I'll be self-publishing novels either out of choice or necessity. Ideally, it'll be out of choice, and it will be in conjunction with traditional publishing, and I'll be a happy hybrid author. Or I'll be self-publishing because traditional publishers will no longer be interested in my books, and self-publishing will then be my only viable option. I hope that situation never arises, of course, but a smart writer prepares for more than one eventuality. In any case, I want to start accumulating self-publishing experience now, with low-stakes projects, so that I know more or less what I'm doing if I need to or want to self-publish higher-stakes projects.
Right now the story is available (with an awesome cover from Jenn Reese's Tiger Bright Studios, whom I can't recommend highly enough) on Kobo, Nook, and Kindle. I'm pricing the Kobo version the lowest ($1.00), since Kobo partners with independent bookstores, and I like to encourage readers to shop at independent bookstores whenever possible. As I write this, the Nook and Kindle versions are at the same price ($1.99), but that's only until Amazon processes the pending price change I made to make the Kindle version the most expensive ($2.99).
I also want to sell through Apple on iTunes, but they're taking a long time to authorize my vendor account (they say it takes an average of seven days, while the other services did it in a couple of hours or less). So, whenever Apple gets around to that, I'll make the story available there as well.
Again, I'm doing this as a learning experience, and any money I make is swell, but right now it's not my primary motivation. If it goes well (meaning I make some money from it and don't find it to be a colossal pain in my butt), I'll probably start putting up other previously printed stories. And my main short-term goal is to write a long-ish short story or novella that serves as a sequel to The Boy at the End of the World. I get a lot of email asking when/if there'll be a sequel, and self-publishing seems like the ideal venue to make that happen.
So, please don't look at this blog entry as an exhortation to buy my stuff, but rather as me chronicling my first foray into indiehugecopororationconsignmentwritering.