Win a signed DRAGON COAST hardcover for donating to Brady Campaign to End Gun Violence
by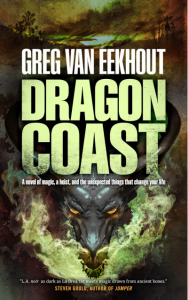 [UPDATE: I was hoping there would be no mass shooting while I was running this giveaway, but right now I'm seeing live updates from yet another one, this time at an Oregon community college. Whether you choose to participate in my giveaway, or donate money to a gun violence prevention group on your own, or lobby your representatives in government, please do SOMETHING to stop this insanity. Please.]
[UPDATE: I found a box of California Bones hardcovers I didn't know I had, so I'm adding a signed hardcover of California Bones, plus an ARC of Pacific Fire, so you get the whole trilogy.]
I'm running another book giveaway, this time for one of three signed hardcovers of DRAGON COAST.
Here's what you gotta do: Make a donation of $10 or more to the Brady Campaign to Prevent Gun Violence. I'll be kicking in $100 myself.
What does the Brady Campaign do? They work to change a situation that leads to 32,000 annual deaths due to fun violence in the USA.
Email (gregvan@gmail.com) to tell me you donated. I'd love to see a screenshot of the donation verification screen, or a photo of your addressed and stamped envelope, but it's not required. I want to make this easy. I would, however, like to know how much you donated so I can tally it all at the end.
I'll choose three donors at random who'll each get a signed hardcover.
I'll keep the identity of the winners and all entrants private unless they want otherwise.
I will ship the books to the winners. Since I don't want to have to pay a bunch for postage, I'm limiting it to addresses within the United States. If you want a special inscription, just let me know.
I'll select the winners on Friday, October 2, 5:00 P.M. EST.
I think that should cover it. Let me know if you have any questions.