California Bones Update – Book & Tour News
by
Goodness, it's been a while. I've been splattering my presence all over Twitter, but have largely neglected my website and blog. But I've got a book coming out soon, so the sphere of my noise will be expanding over the next few months.
So, what's new?
Well, there's this book: California Bones, out from Tor Books on June 10, 2014.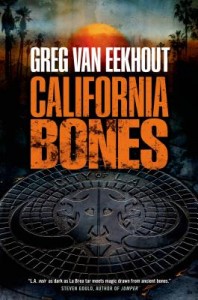 And the big news is I'll be going on tour. You will find me at Phoenix Comicon (June 5 – June 8) and San Diego Comic-Con in July. In addition, Tor, my publisher, is sending me to independent bookstores up the West Coast. Dates are not yet finalized, but so far I'll be visiting Mysterious Galaxy in San Diego, Mysterious Galaxy in Redondo Beach, as well as bookstores in San Francisco, Petaluma, and Seattle. I will of course update when details are concretized. (As a general note, if you want an author to visit the bookstore near you, the best thing you can do is contact the bookstore.)
California Bones is available for pre-order right now:
Mysterious Galaxy | IndieBound | Barnes & Noble | Amazon
(Pre-ordering, by the way, is a terrific way to support books and authors. It tells stores that the book they're expecting on their shelves soon is one their customers might actually want, impelling them to order more copies. It indicates to publishers that the book they're releasing is worthy of support and promotion. Sometimes it even causes them to print more copies. And you almost never have to actually pay for the book until it's out. It's a win for everyone!)
On the other hand, it is also perfectly, wonderfully fine just to buy the book when it's released.
And if you go the listing at Mysterious Galaxy (my favorite bookstore), you'll see a brief review written by Patrick, the manger.
I never like a blog to be all about product and self-promotion, so as I update this place, there'll probably also be stuff about my dog and gardening. So if you like cute terriers and lettuce, you won't want to miss it.